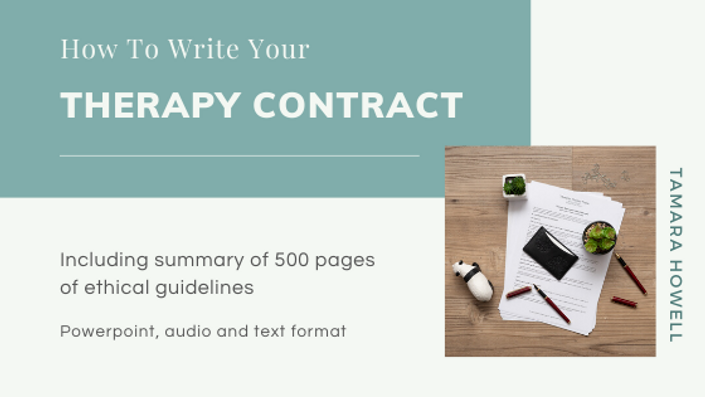 How to Write Your Therapy Contract
and Online Therapy Appendix
Several years ago, I embarked upon rewriting all of my private practice policies and forms. I read hundreds of pages of ethical guidelines and consulted with lawyers. The Therapy Contract was by far the most in depth document I produced, reflected in its length and thoroughness.

I noted and described all the stages of the document writing process, with summaries of ethical guidelines, reflections of various aspects of professional self care and my own thoughts and discoveries.

This course is a guide to writing your own contract. I encourage everyone to do this themselves as it was a transformative and enlightening experience which contributed to many changes in my practice policies and brought me confidence as a practitioner. Here I offer guidance and summaries of the work I did, to save you time and streamline your writing process.

This course is divided into PowerPoint audio presentations, plus supporting text relating to ethical guidelines, references, template wordings and my own practice procedures.

We begin with gaining a basic understanding of the purpose of Therapy Agreements, continue with what we should include and complete the course with written prompts so you can either write your own legal contract or adapt our template to fit your practice.

This self-study course walks you through my six defined categories of professional self care and how to fulfill them using this one crucial document.

This course is for you if:
You would like to write your own Therapy Contract but do not know where to start
You are confident in your writing skills but would like to be given headings so you do not miss anything out
You want to understand ethical requirements and guidelines and how to fulfil them
You have purchased a Therapy Agreement template and would like to customise it to fit your practice
Level:
PowerPoint audio presentations appropriate for counselling students and newly qualified practitioners.
Ethical Guidelines for those seeking more in depth knowledge.
Writing guidance for anyone writing their first Therapy Contract or rewriting an existing document and wanting to make sure all bases are covered.
Why take this course?
I believe that being mindful and clear about the terms of our interaction with clients can make beginning the therapy process easier for them. When we are confident in our practice policies, we take care of our clients, ourselves and the therapeutic alliance.
If you have taken any of my other courses, you will know that I advocate for clarity and accessibility in our policies and paperwork. This short course walks you through my six defined categories of professional self care and how to fulfill them using this one crucial document.
Now with added modules on updating contracts to include online and telephone therapy due to Covid-19.
At Private Practice Paperwork, our customisable Therapy Contract template is available as a mini bundle or as part of Essentials, Foundations and Elevate Your Practice document bundles.
Disclaimer: I am a psychotherapist in private practice and an accredited member of the British Association for Counselling & Psychotherapy (BACP). I have researched BACP policies and guidelines for the purpose of writing private practice paperwork and am not affiliated or collaborating with them.

Your Instructor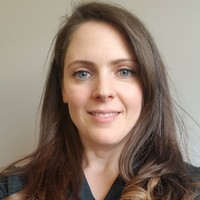 I am an integrative psychotherapist based at 127 Harley St, London with regular visits to Paris where I work from a lovely courtyard office in the 15th arrondissement. I have also been working online via secure video conferencing for the last 10 years and love having this variety and flexibility in my work.
I am passionate about Professional Self Care in private practice and support other therapists through courses, online communities and providing customisable paperwork templates.
I began the Private Practice Paperwork project in 2018 with the help of several researchers, assistants and colleagues in the therapy field after completely rewriting all of my own policies and documents. My previous career as a Lloyd's insurance broker taught me the importance of preparation, legal compliance and adhering to regulatory guidelines and I spent over a year compiling the first customisable package available for purchase, working directly with solicitors to ensure legal compliance. My courses are clear, concise, consider ethical and legal guidelines and include my own experience. I provide examples wherever appropriate and invite participants to join online communities for feedback and collaboration.
Course Curriculum
Outline Your Intentions
Available in days
days after you enroll
Tamara's Procedures and Paperwork
Available in days
days after you enroll
PowerPoint Audio Presentations
Available in days
days after you enroll
Thank you for participating!

Facebook
We have opened a NEW Facebook group called Private Practice Support Community (Covid-19) to support therapists with professional self care during this challenging time. You are warmly invited to join us.
Our Facebook subgroup Psychology Today: How to Write Your Profile continues to provide a space for you to share your wordings with colleagues for feedback.
---
If you are interested in customisable private practice paperwork templates for therapists or hearing about my other courses, visit us over at the website Private Practice Paperwork.